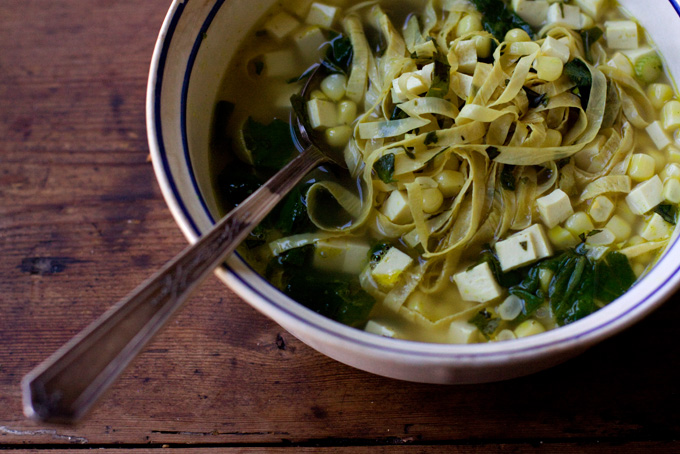 How spicy you make this broth is up to you. I like it with a bit of a kick, but nothing that overwhelms. I've found that using two de-seeded peppers, and two peppers with the seeds and veins intact give me the level of heat and flavor I like. As far as prepping the lemongrass is concerned, chop off all but 4-5 inches closest to each stem. Then peel off the outer leaves – you're trying to get at the tender center of each stalk. Mince and use that. If made with coconut oil or olive oil, this easily becomes vegan.
1 tablespoon coriander seeds
1 1/2 teaspoon whole cumin seeds
2 tablespoons coconut oil, clarified butter, or olive oil
4 shallots, thinly sliced
4 medium garlic cloves, finely chopped

4 small serrano chile peppers, thinly sliced (see head notes)

3 lemongrass stalks, minced (see head notes!)
a 1 1/2-inch piece of ginger, peeled then grated
8 green onions, trimmed, thinly sliced
1/8 teaspoon turmeric powder

1/4 cup / 60 ml freshly squeezed lime juice & a bit of zest

6 – 7 cups / 1.5 liters / 1.5 quarts good-tasting vegetable broth

12 ounces / 340 g tofu, cut into tiny cubes
OR
6 oz tofu cubes + 6 oz yuba skins, cut into thin strips

kernels from 2 ears of corn

4 handfuls of torn spinach, stems trimmed

a small handful of each of the following: fresh mint, fresh cilantro, fresh basil, all chopped just before serving and combined in a small bowl
Use a mortar and pestle, or alternately, a spice grinder to crush the coriander and cumin seeds a bit. Heat the oil in a large soup pot over medium-high heat, stir in the crushed spices, and toast until fragrant, barely 30 seconds. Stir in the shallots, garlic, serrano chiles, lemongrass, ginger, green onions, and turmeric. Stir well, then add the lime juice and zest. Cook until the shallots are soft and translucent – under 5 minutes. Stir in 6 cups / 1.5l of the broth and bring to a simmer. Simmer for a few minutes, then taste for seasoning. Depending on how salty your broth is, you might need to add a little salt or substantially more. At this point, If the broth is too strong for your liking, you might add a bit of water, or maybe it needs a bit more lime juice. Just keep tweaking until it tastes good to you. It's the base of your soup, so you want it to taste great on its own.
Pour the liquids through a strainer into a bowl, pressing on the solids to get all the broth out. Discard the solids, and return the strained broth to the pot. Bring it back to a simmer then stir in the tofu and the corn. Let them heat through. Just before serving, stir in the spinach, then sprinkle each serving with a big pinch of the herb mixture.
Serves 4.
Prep time: 20 min – Cook time: 15 min